TVU Producer is a cloud based, multi-camera live video production platform that includes audience participation, graphics, recording, slow-motion and replays, with one-click delivery to multiple platform and SDI out.
Prepping the Overlays
Before you can output your overlays with TVU Producer, you have to prep them in Studio. Learn how to prep your overlays in Studio in steps 1-4 of the Beginner's Guide.
Outputting with TVU Producer
The following is a tutorial on how to add your Singular overlays into TVU Producer:
1 - Generate Studio Access Token
Select the three dot menu in the upper right corner of Studio and choose "Manage Access".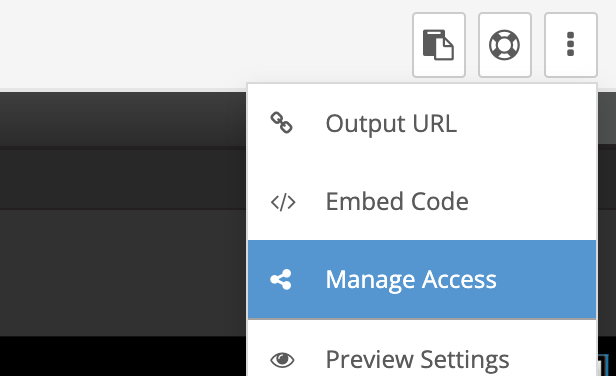 Selecting "Manage Access"
Then make sure to hit the "Generate" button. Without hitting this button, TVU Producer will not have access to your show.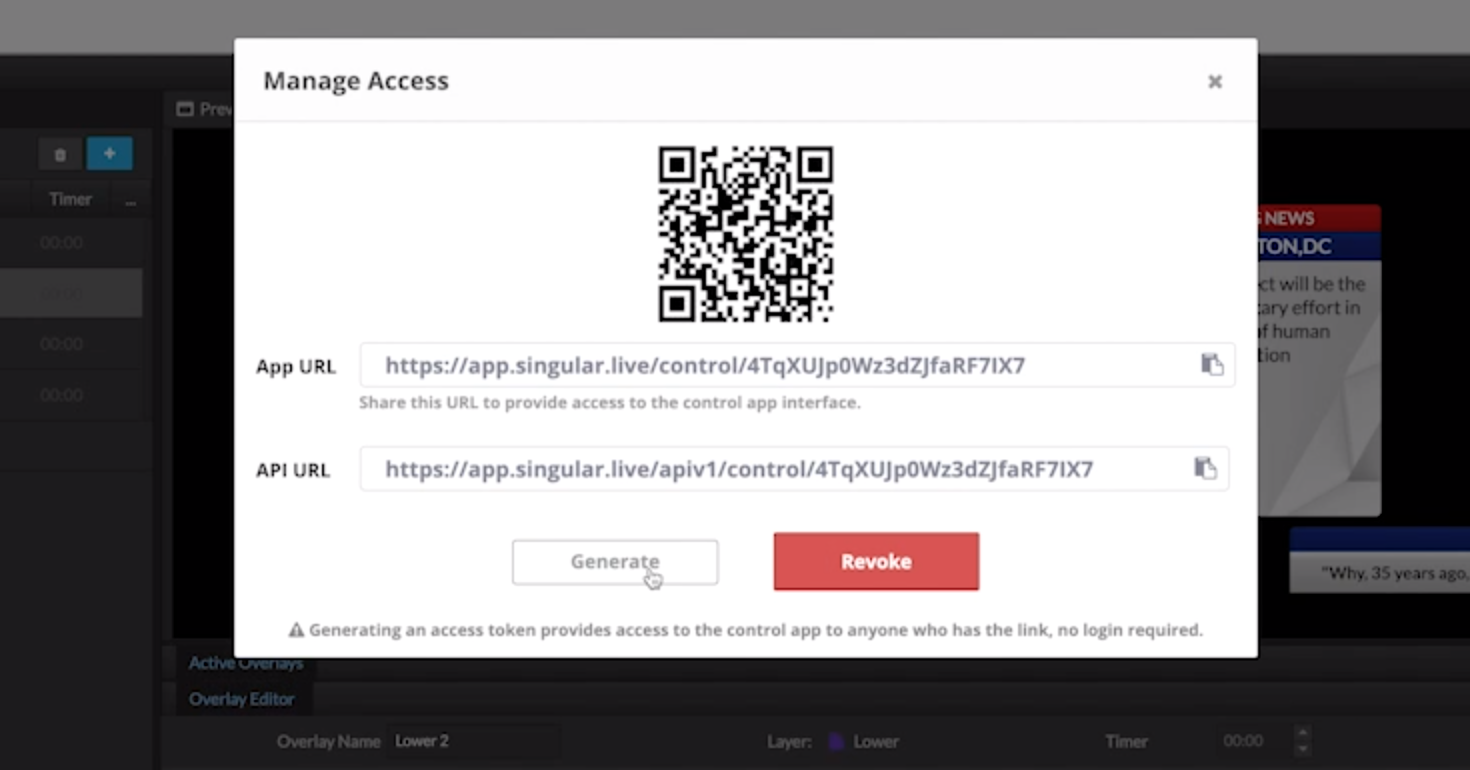 Choosing "Generate"
Generate an access token so that TVU Producer can have access to your Studio show.
2 - Log In to TVU
The login page will look like this: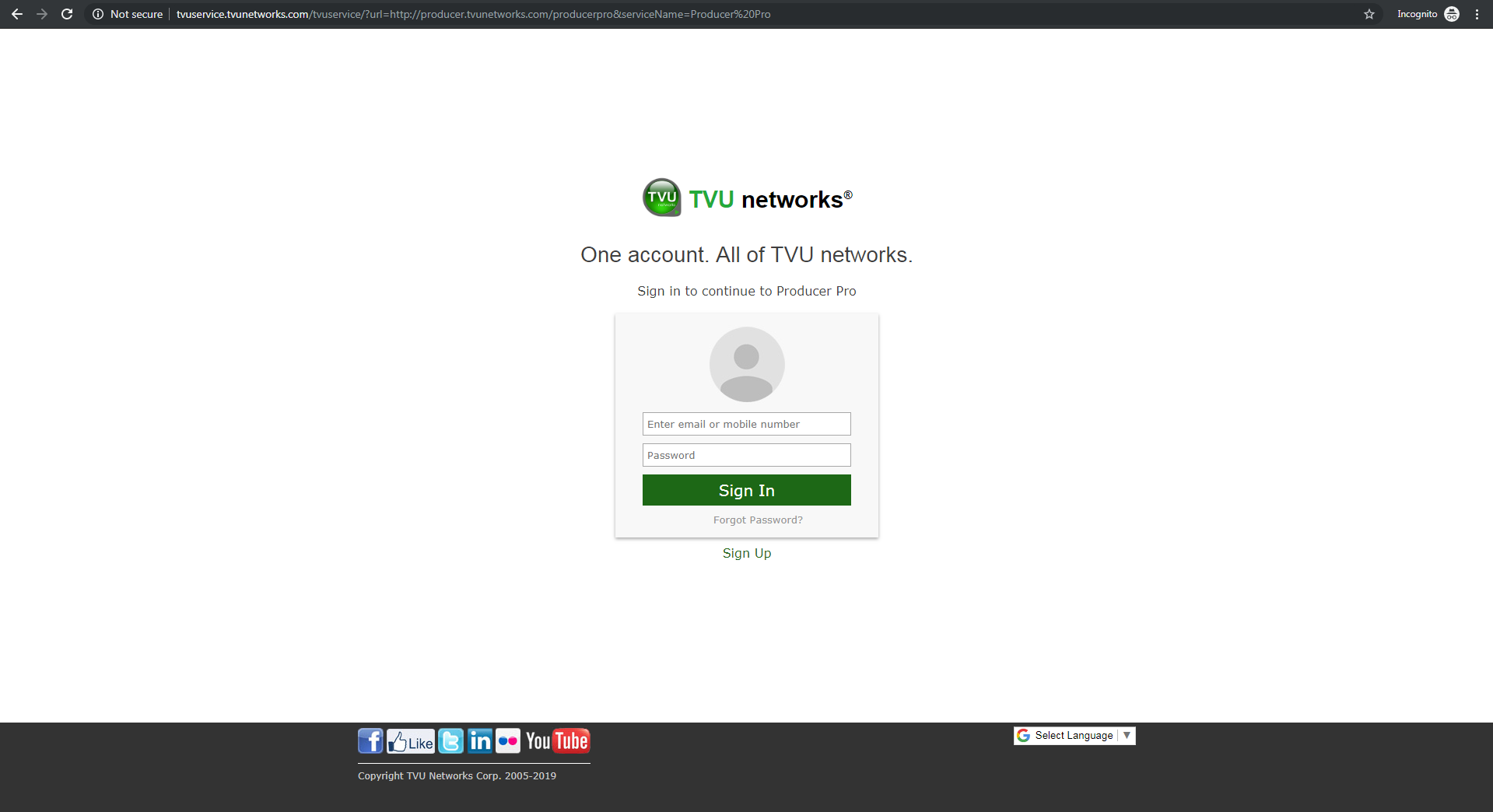 Log In
3 - Server Initializing
After you log in, you'll see this window where it will initiate your server. If you notice after a minute that it stays at 88%, just refresh the webpage.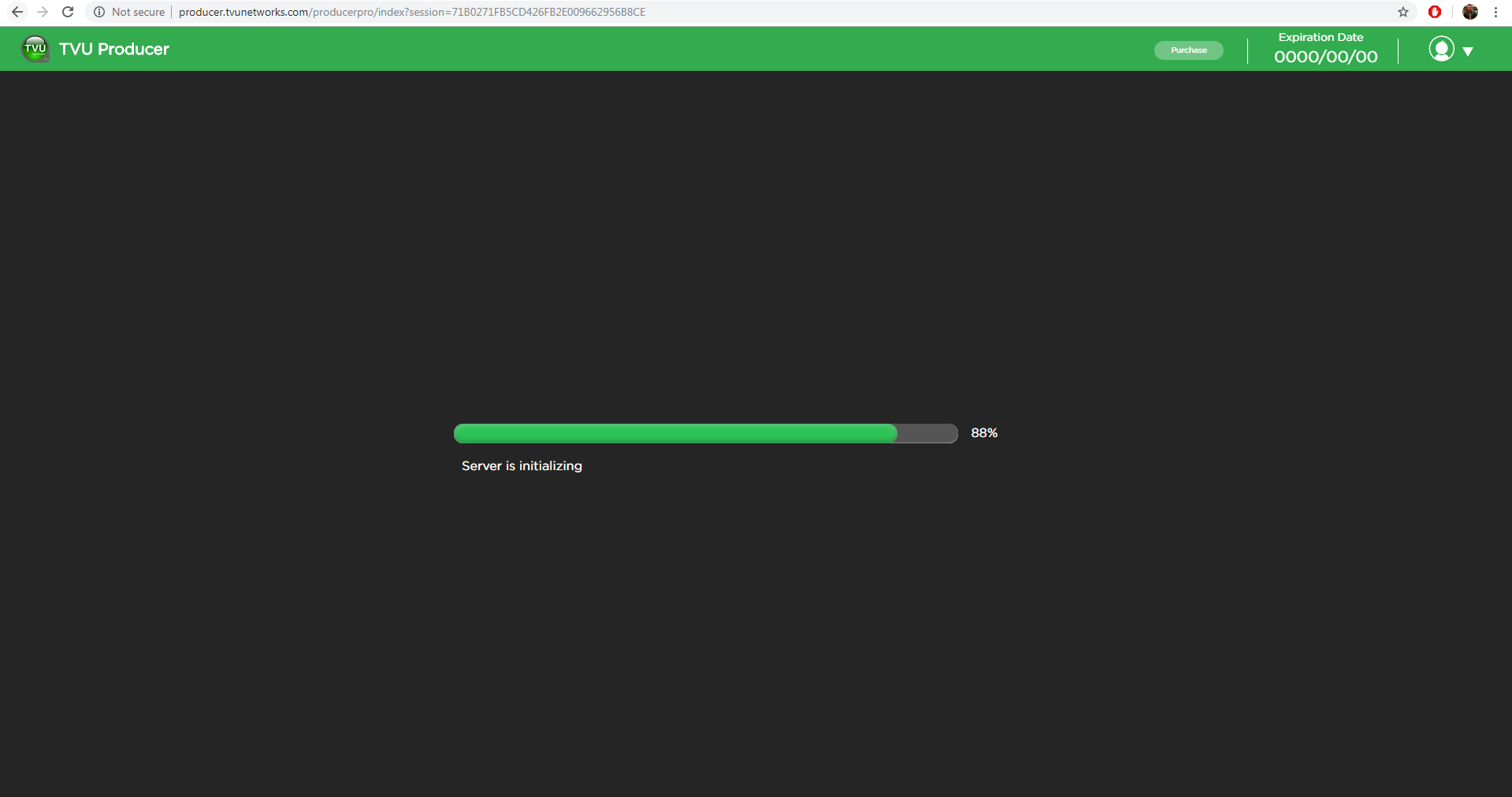 TVU Server Initializing
4 - Select Overlay then Singular/URL
Now that you're in TVU Producer, choose the "Overlay" button in the left panel and then choose the "Singular/URL" tab.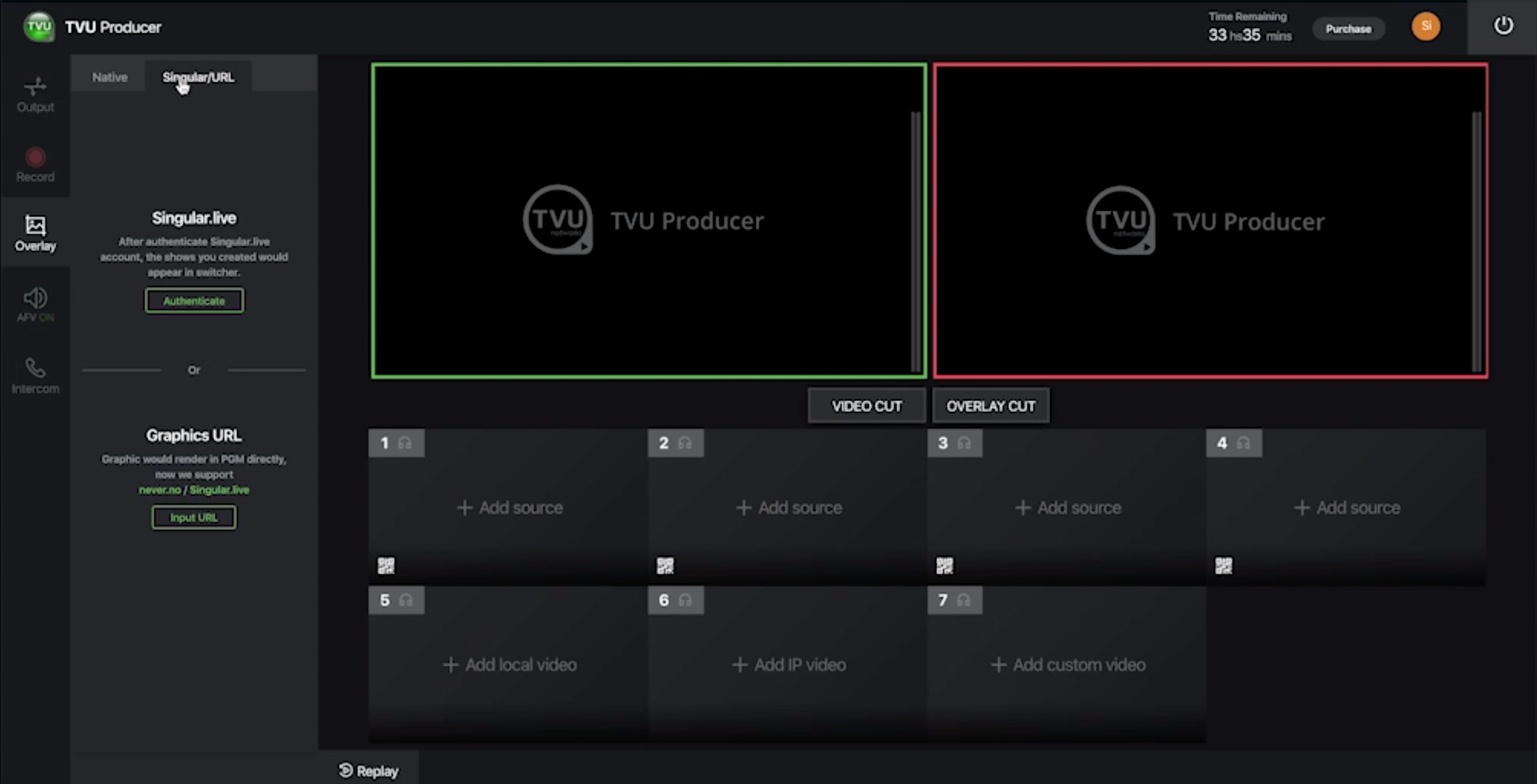 Selecting "Overlay" and "Singular/URL"
Select "Authenticate" under the Singular.live section in the panel.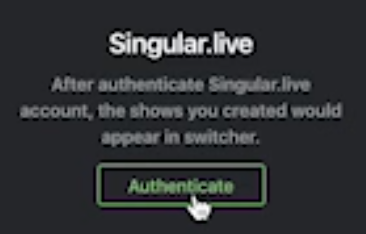 Selecting "Authenticate"
5 - Log In to Singular
After hitting Authenticate, a new window will open where you'll need to log in with your Singular credentials.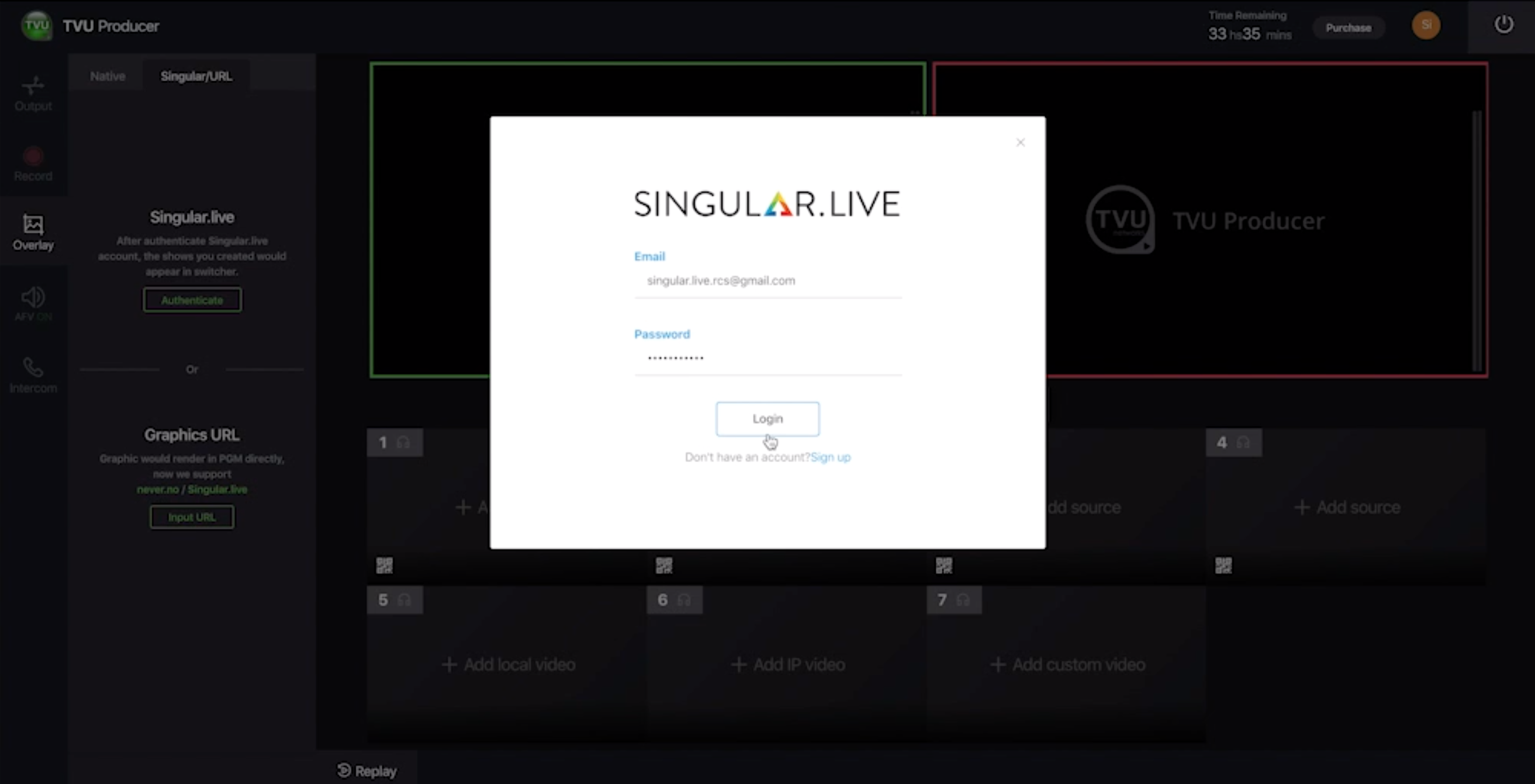 Log In to Singular Account
After you successfully logged into to your account, you'll see your Studio show appear as a thumbnail in the panel: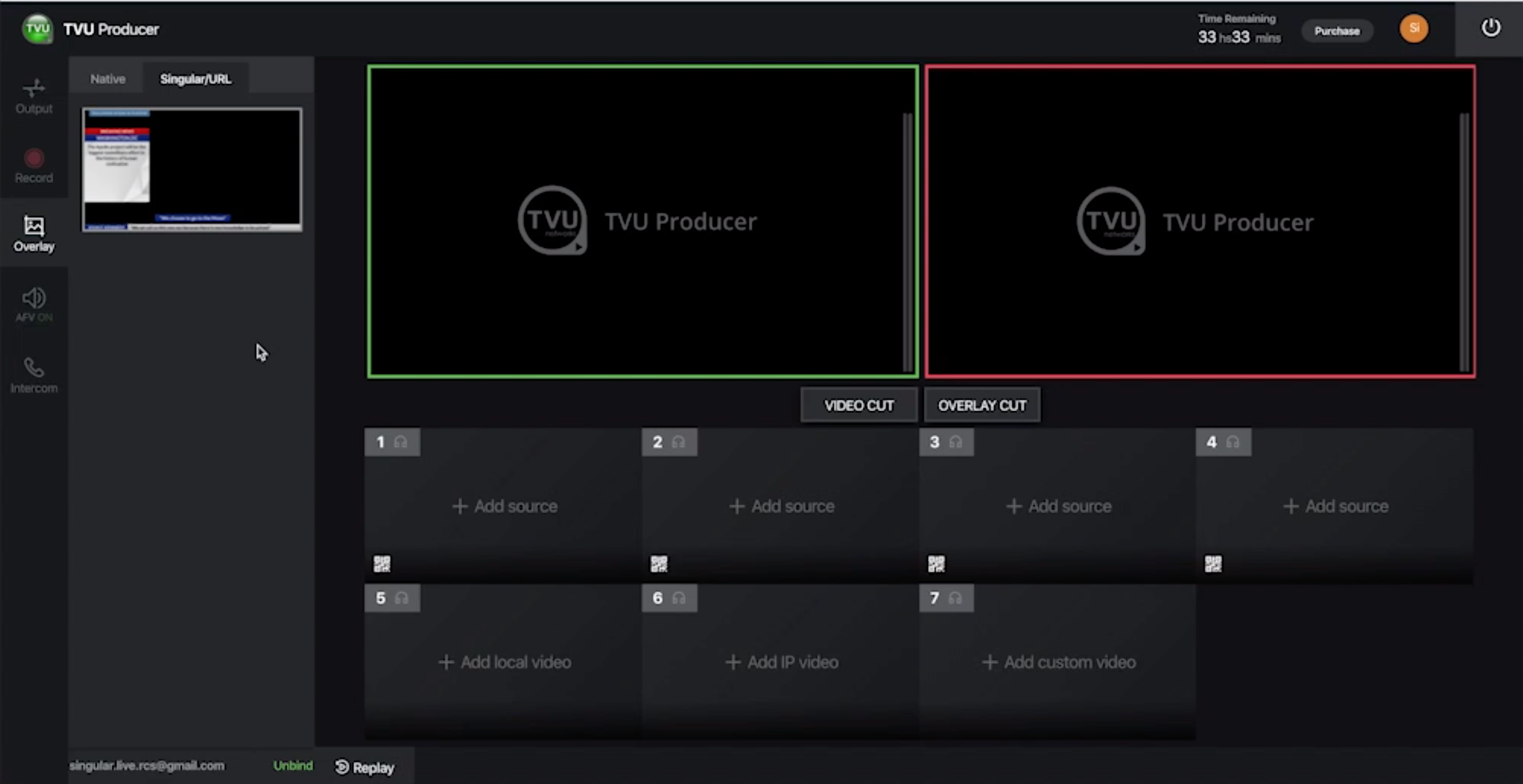 Log In to Singular Successful

6 - Select the show, hit "Edit"
Select your show and choose the Edit button.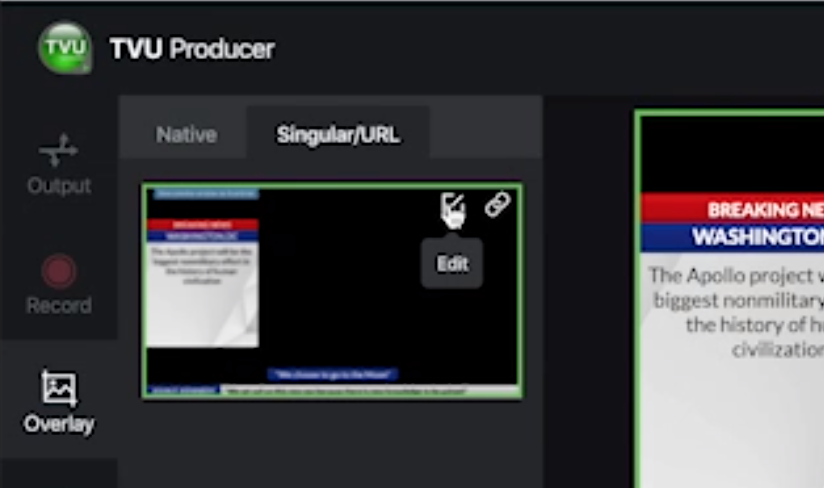 Selected Singular Overlay in Producer
Now you can see all the controls for your show appear in the lower middle section of TVU. All the overlays inside of your show will appear as control buttons and will be grouped according to layer. So, for example, all your Fullscreen overlays will be grouped together in one row. Same thing with your Lower Thirds and so on.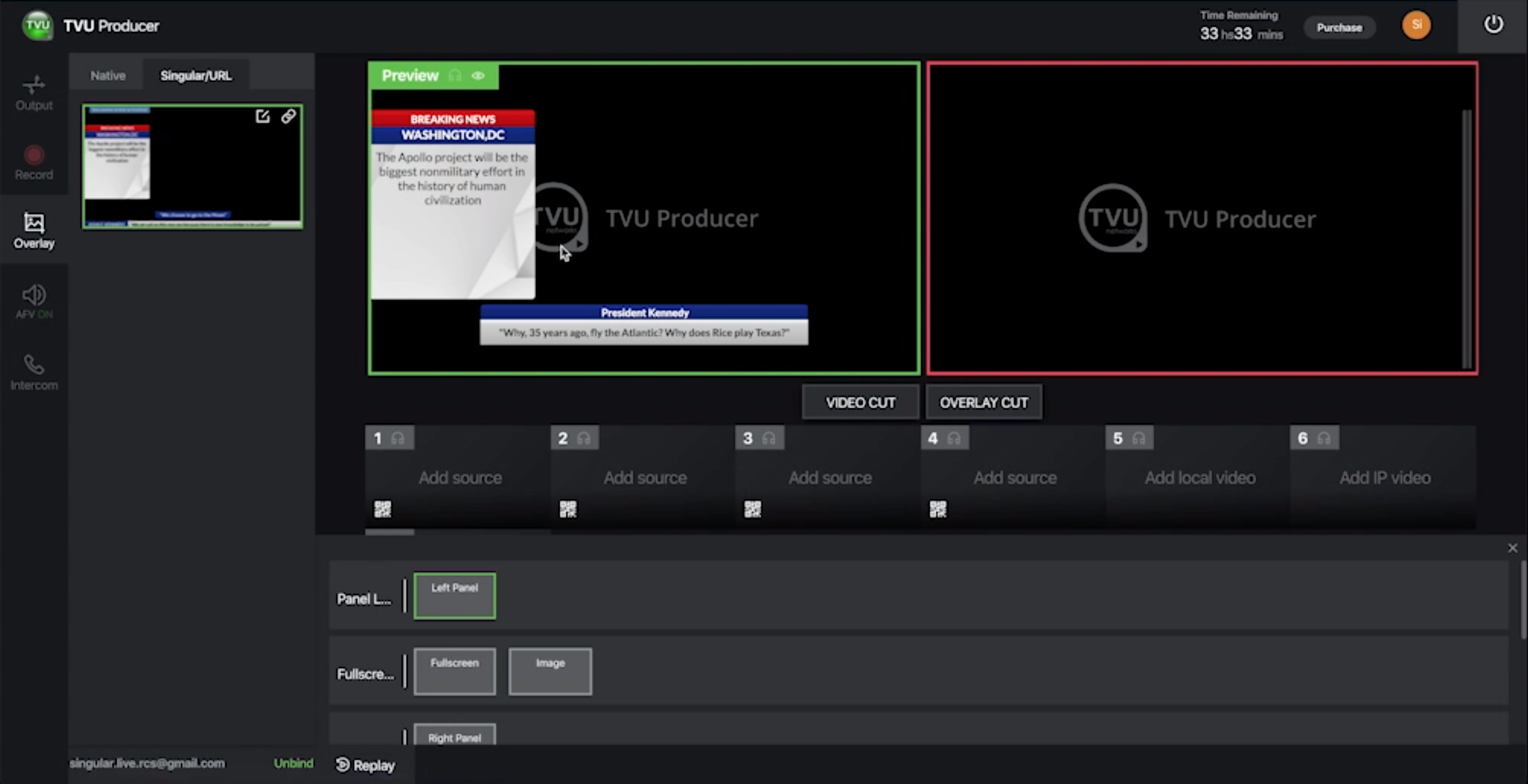 Overlay Control Buttons Appear
7 - Taking on/off overlays and updating their contents
Clicking on a button will toggle on or off the overlay. Selecting the Edit button will open up the fill in form for that specific overlay.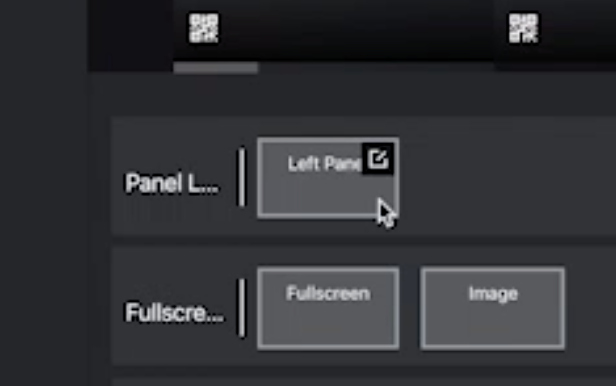 .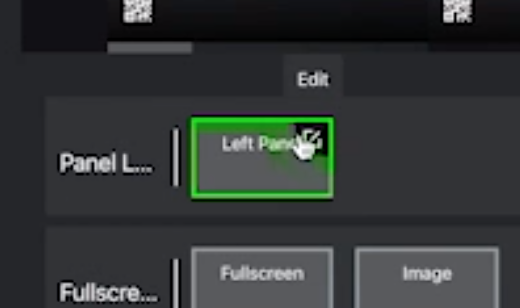 Buttons Toggle On/Off the Overlays. Selecting Overlay Edit Button
Once the Edit button for that specific overlay has been selected, the corresponding fill in form will appear in the left panel: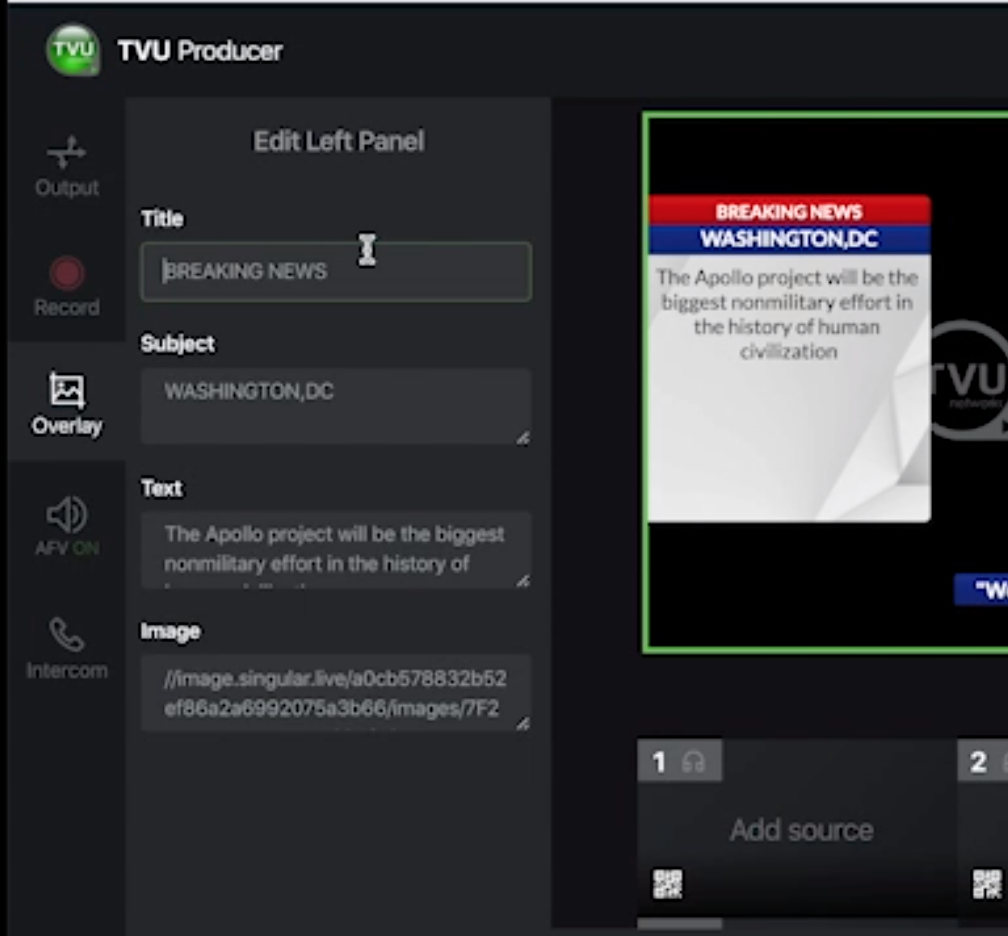 Overlay Fill In Form Appears
Note
At this time, you're only able to update text and image fields in TVU.
8 - Alternative Method for Singular Control App Operation
The second TVU and Singular integration allows you to operate your Show within your Singular Control Application instead of with the buttons inside TVU. You may want to use this method if you want to take advantage of the features in your Control Application such as playlists, timers and more. Or you might want to use this method if you are just generally familiar with operating overlays inside your Control Application.
A - Unbind the Show
First, you'll have to unbind your current show by hitting the "Unbind" button on the bottom of the left panel. Make sure to follow the additional prompt after hitting the red button.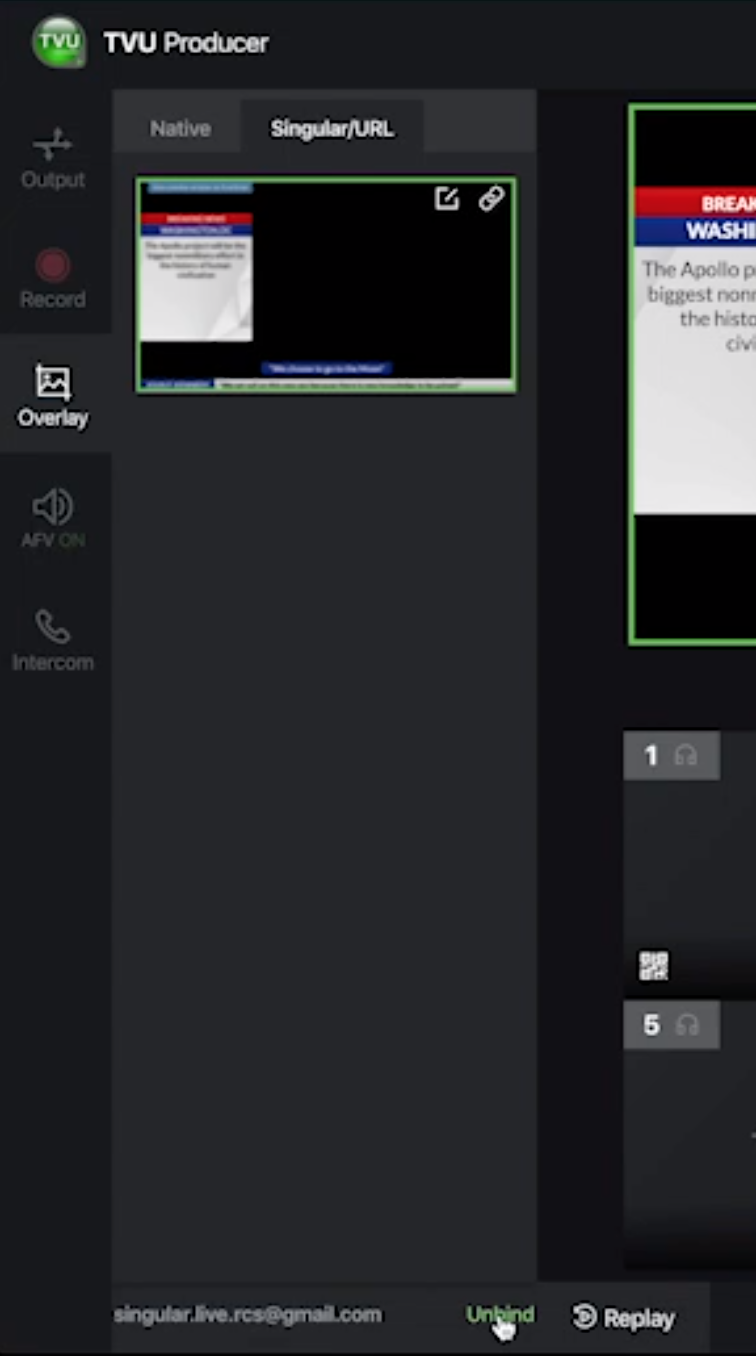 Hitting the Unbind Button on the Bottom of Left Panel
B - Select the Graphics URL Option
Select the Input URL button in the second main option titled "Graphics URL"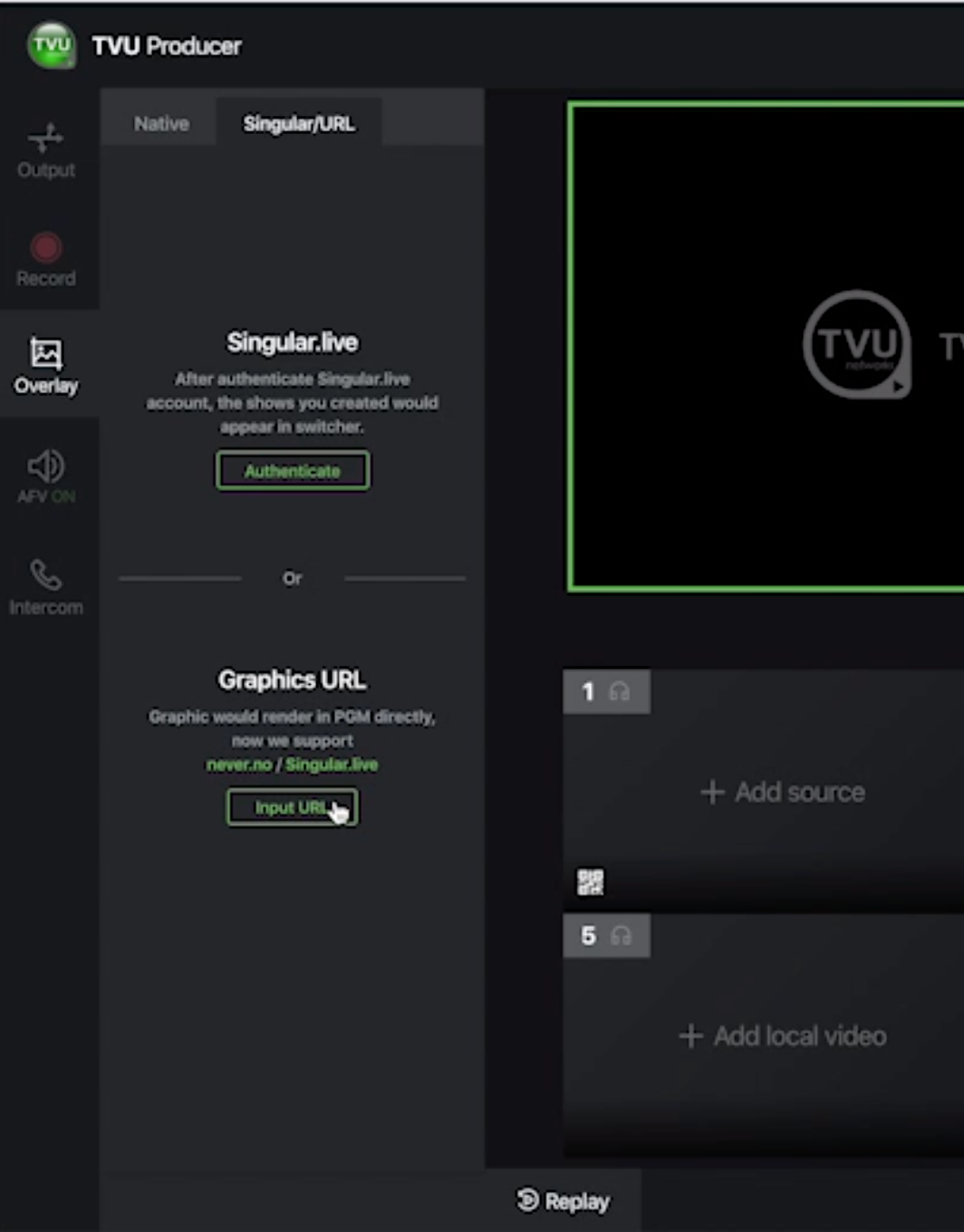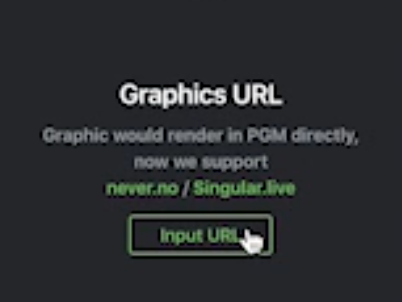 Selecting "Input URL"
C - Grab Your Studio URL
Jump over to your Studio show copy your Output URL.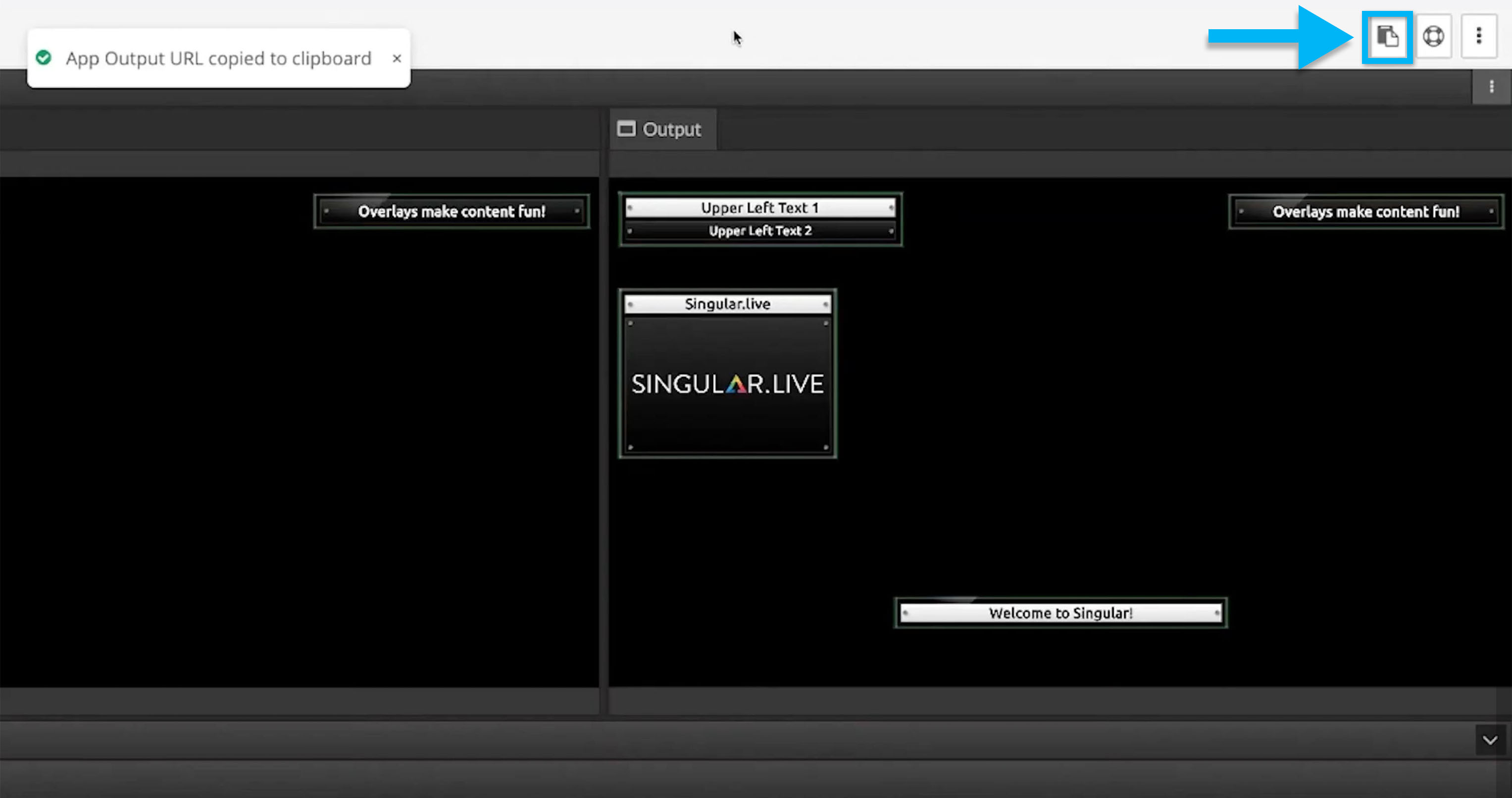 Copying URL
D - Paste URL into TVU Producer
Jump back to TVU Producer and paste in your URL. Then select "Done".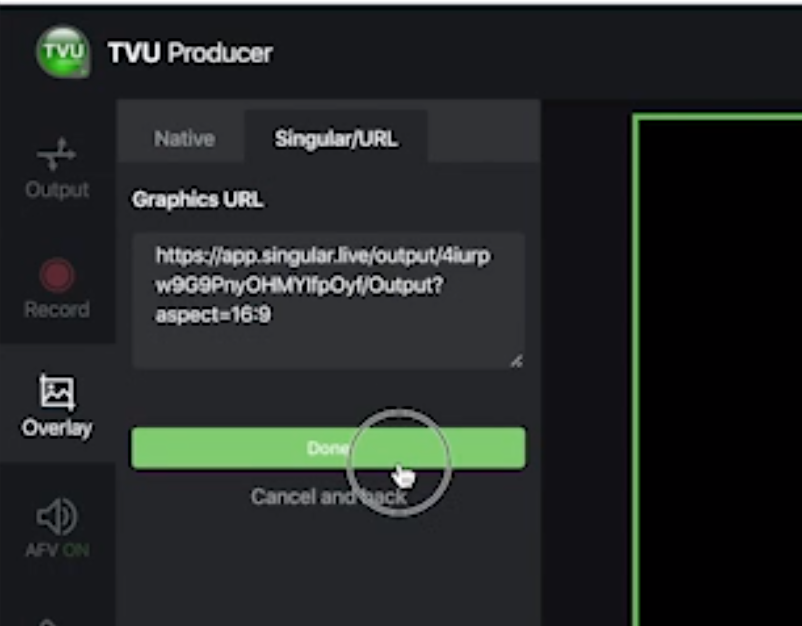 Pasting URL and Selecting "Done"
A couple things to note with this method:
You are now able to operate your overlays out of your Control Application
Your overlays will not show up in preview, only in the output
You'll have to have a video source connected in order for your overlays to show up in the output.
If you have any questions about Singular and TVU, please submit a request here.