Singular.live's Singular Recast is a dedicated engine that converts our overlays to various streaming formats. Our initial output format is Newtek's open source NDI®. Newtek's NDI® open source standard has become one of the most widely used professional streaming formats with over 900 development partners worldwide.
Note
Recast does not support H264 or audio playback. It does support VP8 and VP9. We also suggest having Recast dedicated to it's own computer (NDI is very heavy on network traffic) and operating your overlays from another machine/device.
To download the latest version of Singular Recast for Windows, click here.
Easily integrate Singular.live into your NDI® studio workflow with Singular Recast. Follow the walkthrough below to get up and running in minutes.
1 - Install, Open and Select Settings
Install and open up Singular Recast. Select the settings button in the upper right corner to make the Playout settings fields editable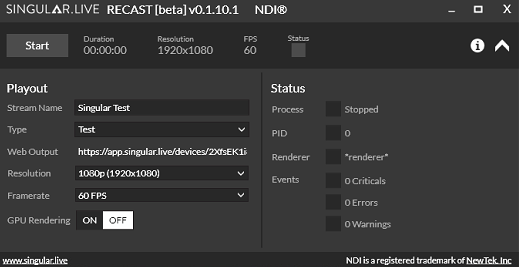 Open Singular Recast, Click Settings
2 - Add Stream Name and Output URL
Enter in your desired NDI stream name, change the "Type" to "Manual URL" and paste in your Web Output URL.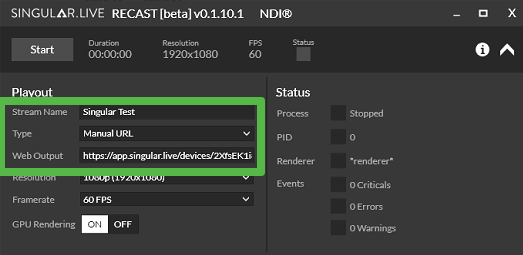 Add Stream Name and Paste Output URL
Note
To view this NDI stream (with your chosen name), use Newtek's free NDI monitor, here.
3 - Set Resolution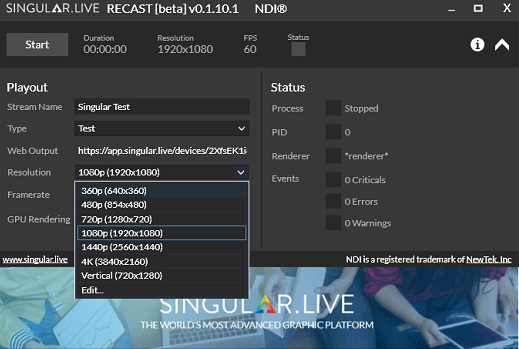 Set Resolution
4 - Set Framerate
Set your NDI output Framerate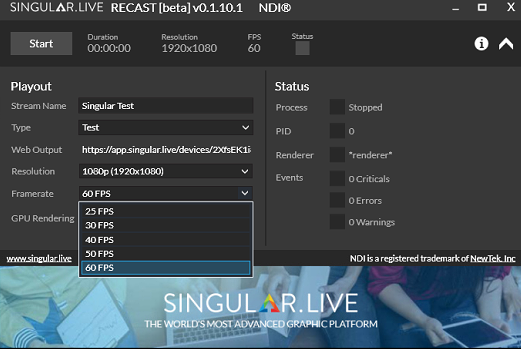 Set Framerate
5 - Start
Click the "Start" button to begin and view the Status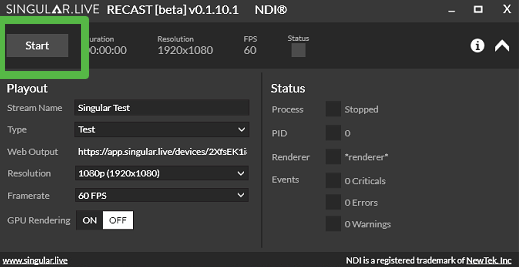 Click "Start"
GPU Rendering Option

Recast renders Singular on the CPU or has an option for GPU.
GPU Rendering - ON
We recommend utilizing the GPU for better performance. Any standard graphics card should be able to handle it. When GPU Rendering is on, Recast will render the web page on the GPU which will typically result in better performance and quality in the rendering.
However, due to the differences in GPU manufacturing, there can be different results in how the HTML is rendered. So if you see anomalies in the rendering, you can turn this off.
GPU Rendering - OFF
Rendering is pushed to the CPU which is much more consistent on different computers but can also result in slower rendering. As for RAM, 8GB should be enough, but more is always better.